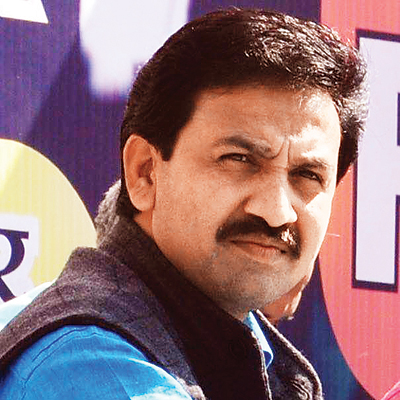 Vidarbha man Shreehari Borikar, 38, who on Tuesday got elected as the national general secretary of Akhil Bhartiya Vidyarthi Parishad (ABVP) for the second time in a row, has also been in-charge of north-east region of the students' union for the past six years. This ABVP activist holds BCom and DBM degrees from Nagpur and is associated with the union since 1990. Borikar is known for his great organisational skills and aggressive "national integration" and "anti-Bangladeshi migration" campaigns, through which the right-wing students' union grew five-fold in Assam at the cost of All Assam Students Union. He had tasted similar success in Jammu & Kashmir where he served for six years. Borikar, who was in Mumbai on Wednesday, spoke to Kanchan Srivastava of DNA about his achievements and agenda.
Q: What is at the top of ABVP's agenda, especially with the BJP in power?
A: On the lines of Nirbhaya fund, we want a special education fund for the poor meritorious students. Besides, we would push for a specialised bank for the education sector just like we have IDBI bank which provides funds for the industries. In a memorandum submitted to the HRD minister, we have put forth all major issues which need to be addressed urgently. They include streamlining of education policies, mandatory and active women development cell in each college, women's college at every district and more hostels for women so that they can study in a secure environment.
Q: As the students' wing of BJP, you had successfully pressed your demand to revoke the four-year degree course in Delhi.
A: ABVP is not the students' wing of BJP. We are an independent organisation. You may call us the students' wing of RSS. Moreover, we had been demanding for the same since FYUP was implemented illegally and arbitrarily without consulting the stakeholders. Our demand was legitimate and hence it was met.
Q: ABVP has been lying low in Maharashtra. Is it deliberate or the ban on students' union elections is the reason?
A: Ban on students' union elections has badly affected the sociopolitical awareness of the youth here. There is little scope for student politics today. Yet, ABVP is active enough and fighting for students' rights.
Q: Have you ever worked with CM Devendra Fadnavis?
A: In 1990-92, both of us were working for ABVP in Nagpur handling two different sections. He was just like another activist.
Q: What is the biggest issue of north-east students?
A: They have skewed eduction facilities. At least 1.5 lakh students from seven NE states have to migrate to other states for eduction. Government must start investing heavily in eduction there mainly in courses which are related to the natural resources.
Q: Sceptics say right-wing groups exploit Assam's Bangladeshi migration issue for political gains?
A: Bangladeshi migration in Assam is being facilitated by politicians only. They get them there during riots when things are already in a mess. We have surveyed the refugee camps in four Bodo districts after the Kokrajhar incident two years ago. There were 4.5 lakh Muslims living in the campus. When we checked with the government records, we found that Muslim population in those four districts were only 1.5 lakh before the riots. All those people are now enjoying benefits of monetary relief, ration cards and others. Not only Hindus, even native Muslims are unhappy with the surge of migrants who are eating up their share.
Q: Can you share the challenges of students' unions in the present times?
A: Students have become career-oriented and thanks to our flawed and borrowed education policies, there is no scope for other activities except exams and courses. The haphazardly implemented semester system has further compromised the social awareness and overall development of students. Student politics not only produces good political leaders from grass roots but many social leaders also. The education system in the country needs to corrected.